Why Sell with RE/MAX Unlimited Results?
We are more than just a brand. We are locally owned and operate out of downtown Tiffin, Ohio. Our Real Estate agents take your time, and your dream, seriously. Whether you are in the market to downsize, upgrade, move across the country or just across town, we are here to help from the very beginning. From listing to closing to moving, selling your home can be a lot to handle, so let us carry the weight for you.
Syndication
By using two Multiple Listing Sites (MLS), our agents put your home in front of buyers no matter where they are looking. Your listing will show up on Zillow, Trulia, Redfin, Realtor.com, 419HomeSearch.com, and any other platform that pulls from the MLS (which they all do!)
Target Marketing
Social media may seem like screaming into a void, and it can be. However, by using targeted marketing, we focus on the users looking to buy a home in the area. This gets more clicks, more walk-throughs, more offers, and a faster sale!
3D Virtual Tour
Whether buyers are from out of state or work long hours, having access to a 3D walkthrough online is a great tool to get more people inside your home. The Matterport technology allows viewers to move through at their pace and really get a feel for the home. Test out this amazing technology below!
Custom Webpage
All of the photos, videos, information, and description of your home on one page. Your home deserves the spotlight and we will make sure you get it!


Drone Footage
A birds-eye view grabs attention. You may never see your home from above, but we feel it's important to get a feel for the lot size and house placement. For larger properties, drone footage is a must. These photographs prove it!
Knowing the Value
We are happy to take the time to review all of the factors that go into pricing your home.
This tool gives you a quick estimate, but be sure to talk to one of our agents, who know your current market and can see the condition of your home, for a true assessment. The location, condition, and size are all considered.
Facts we focus on when finding your magic number:
What are similar homes selling for in your area? Per square foot? What isn't selling in your area?
When were the last upgrades... roof? furnace? windows? flooring?
What is included... appliances? warranty? smart home features?
How quickly do you want to sell... before school starts? in the next year?
What price will draw more attention... 205k vs 199k?
A Picture is Worth a Thousand Words
No amount of fluffy words or paid advertising can make up for poor quality photos. Your house is a home, and every picture should say so. We've practiced our angles and sharpened our focus.
We take photographs that make a statement so your home can speak for itself.
Home Staging
If there is one thing we know, buyers don't always have a great imagination. Homes that are "move-in ready" sell faster and a modern layout will make the difference. We can help your home sell faster with ideal staging tips, recommendations for simple upgrades that make a huge impact, and colors that allow buyers to visualize themselves in your house.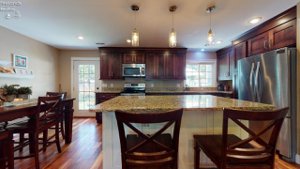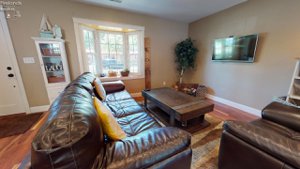 Upgrades we may suggest:
When painting, choose light neutral colors to enhance natural light.
When moving furniture around, leave empty space to give your rooms a larger feel.
Landscaping does not have to be overdone to impress.
A freshly sealed driveway increases curb appeal more than you'd guess.
Touch-ups around the house give your home elegance and appeal. No blown lights or chipped paint!
Leave the mirrors, for now, as they really open up the room.
Clean off the counters, simplicity is welcoming.
RE/MAX Moving Truck
Once the final documents are signed and you've sold your home, you still need to pack up and move. We want to make that as easy as it was to sell. You get access to our box truck for 23hours and a free 60 miles when you sell (and/or buy) with us!
Quality Videos you Want to Watch
We work with local videographers at Dead Shark Productions to bring your home to life. The quality of these videos captures the attention of buyers and gives them a taste they can't ignore. You can count on these video tours driving more traffic to your listing than any ordinary video. Check out a few of our favorites!
Learn more about listing your home for sale and request your complimentary home evaluation.
Contact Us Today. 419-443-7653 (SOLD).